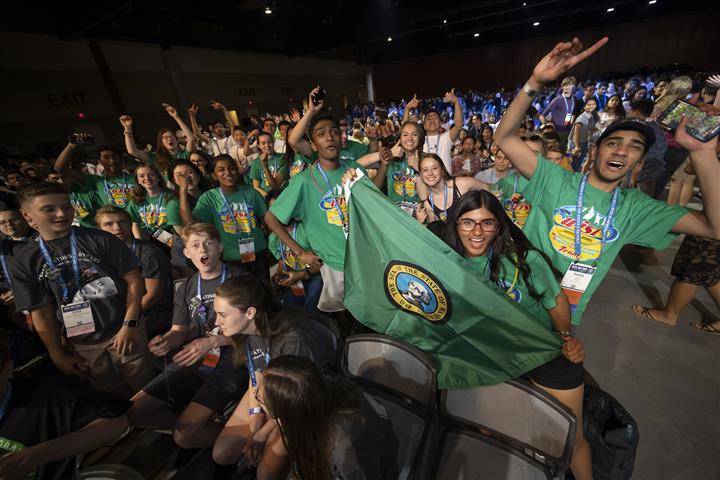 WISE Team students proudly celebrate representing Washington State each year at ISEF!   
 The Washington International Science & Engineering (WISE) Team  is comprised of the Grand Champions from WSSEF and five Regional Fairs. How did the WISE Team do at ISEF this year? Click here to find out.
 Congratulations to the Washington State Science & Engineering Grand Champions
WSSEF Gold Medallion ~  Christine Ye, grade 11, "Data-Driven Approaches to Pulsar Glitch Triggers, Evolution and Universality"
WSSEF Silver Medallion ~  Ansel LaPier, grade 11, "Engineering a Clinical Force Measuring Walker for Patients with Restricted Upper Extremity Weight Bearing"
WSSEF Bronze Medallion ~Conan Lu, grade 11, "Compose GAN: A Multi-GAN Approach to Symbolic Music Style Transfer"
Also earning an all inclusive trip to the 2021 Regeneron International Science & Engineering Fair (ISEF)
WSSEF ~ ISEF Finalists ~
An Doan, grade 11, "Autonomous Drones for Search and Rescue Operations"
Samarjit Kaushik, grade 11, " Investigating the effect of Fibulin-2 on NF-κB pathway activity and proliferation of pediatric gliomas"
Cameron Knapp, Ethan Moore, James Speedy, all grade 12, "Low-Profile Haptic Feedback Glove for use with Virtual Environments"
Amaya Martin, grade 12, "Analyzing the Gut Microbiota Species within SwHi and SwLo Rats"
Justine Pendergraft, Gareth Starratt, both grade 11, "Implementing visible and thermal imaging techniques for Disease and invasive species analysis in forestry"
Taylor Rice, grade 11, "3D printing an Intrauterine Device Specifically for Nulliparous Women, by Adjusting Size and Exterior Design"

WISE Team celebrating at ISEF.
Science Rocks!!!!!