Students from across Washington and Oregon states gathered February 17 – 19, 2023 for the annual Junior Science & Humanities Symposium (JSHS) hosted by the Washington State Science & Engineering Fair (WSSEF) and the Naval Undersea Museum Foundation (NUMF). The JSHS STEM event is sponsored by the Department of Defense, US Dept. of the Army, US Dept. of the Navy and the US Dept. of the Air Force / Space Force. The event was held at the Golf and Country Club in Bremerton, Kitsap County, Washington. Photos here: Washington & Oregon JSHS 2023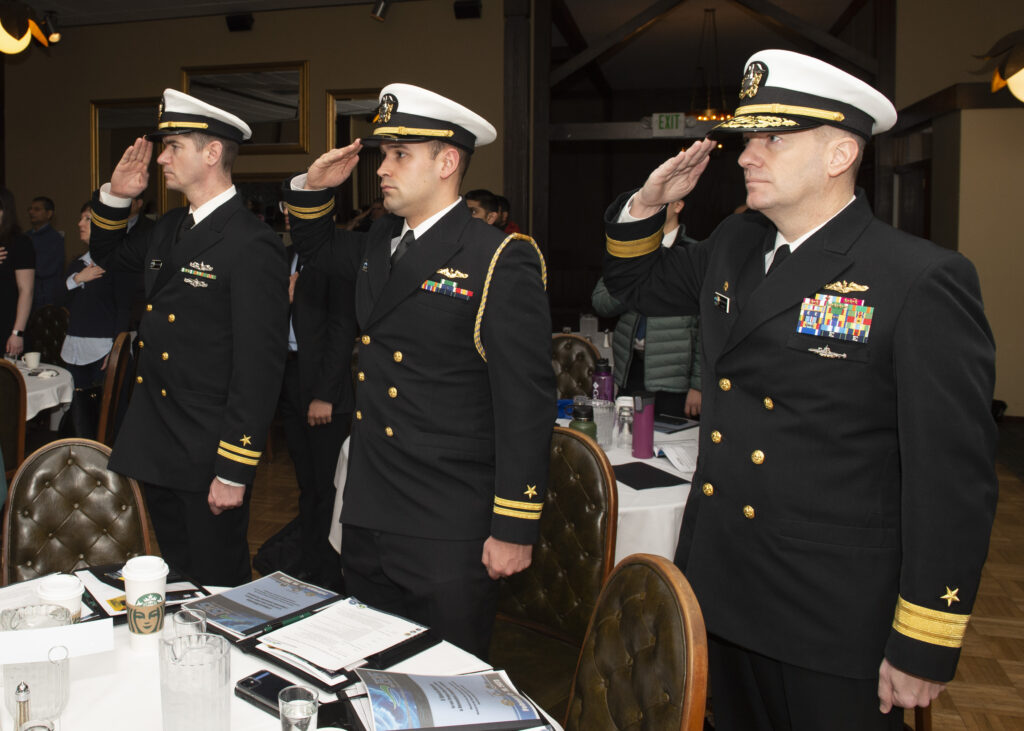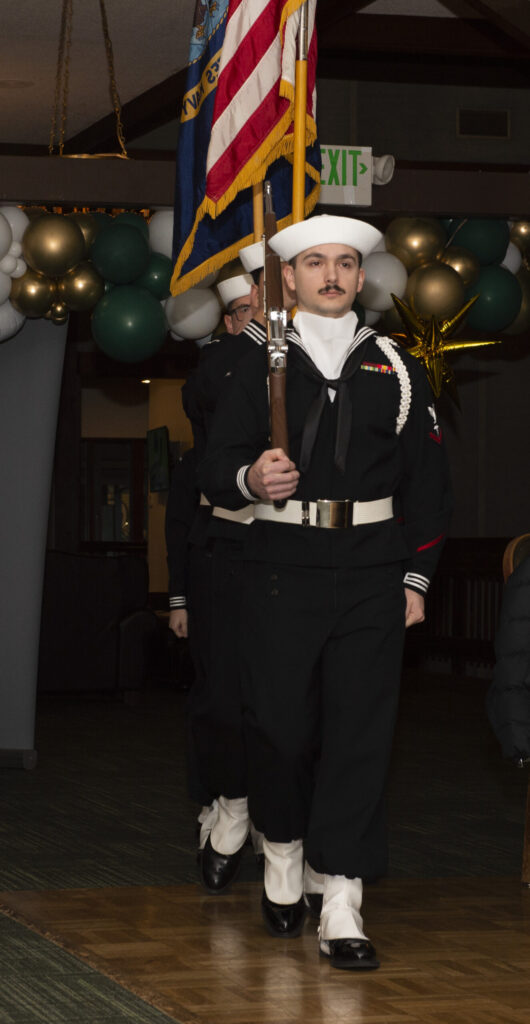 The Naval Medical Readiness Training Command, Bremerton presented the Color Guard with our National Anthem.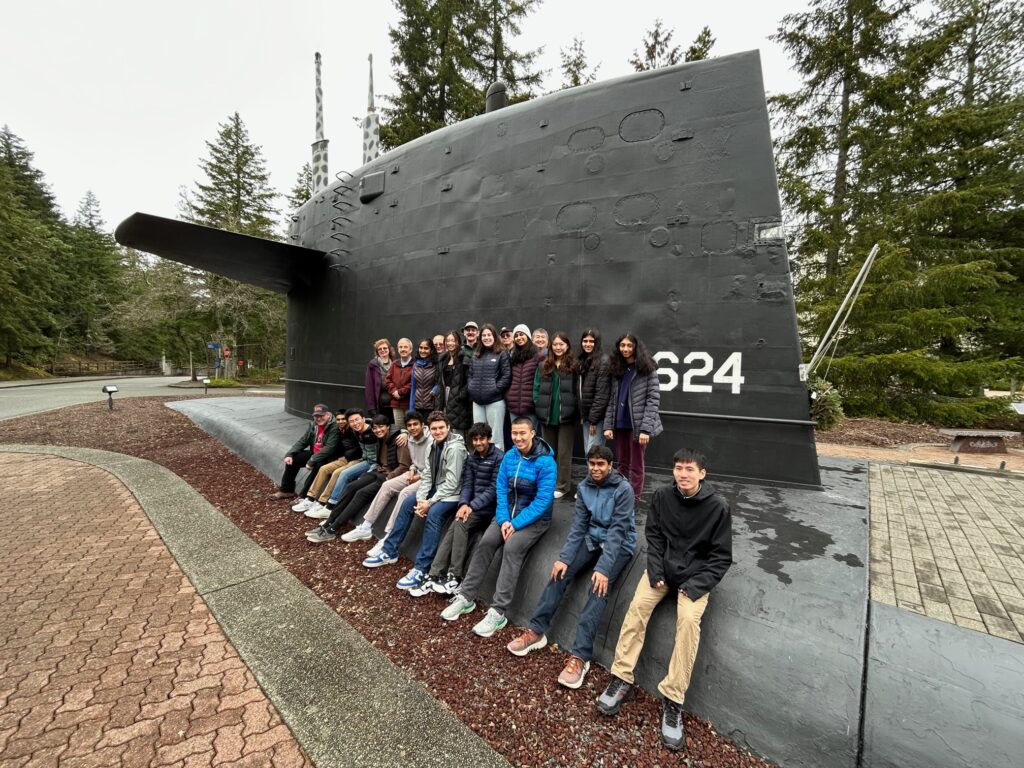 Special thank you to our Welcome Speaker ~ RADM Mark Behning, SUBGROUPNINE Commander, Naval Submarine Base, Bangor. RADM Behning graciously facilitated an extraordinary tour for our Washington and Oregon JSHS students — boarding and touring the USS Nebraska, an active-duty submarine dockside at Naval Submarine Base, Bangor. This rare tour was the pinnacle of other JSHS student excursions throughout Kitsap County. The photo are JSHS students at the USS Woodrow Wilson "submarine sail" in Deterrent Park, SUBASE, as USS Nebraska photos for security reasons were understandably not allowed.
Students, families and our public guests enjoyed discovering Kitsap County highlights including the USS Turner Joy – DD-951, Puget Sound Navy Museum, Kitsap Historical Museum, Valentinetti Puppet Museums, Fountain Park and the U.S. Naval Undersea Museum in "Torpedo Town USA" Keyport. Following the submarine tour our JSHS participants and guests enjoyed exploring "Little Norway" Poulsbo, historic Port Gamble and Bainbridge Island to the north and riding the foot ferry from Bremerton to explore Port Orchard to the south.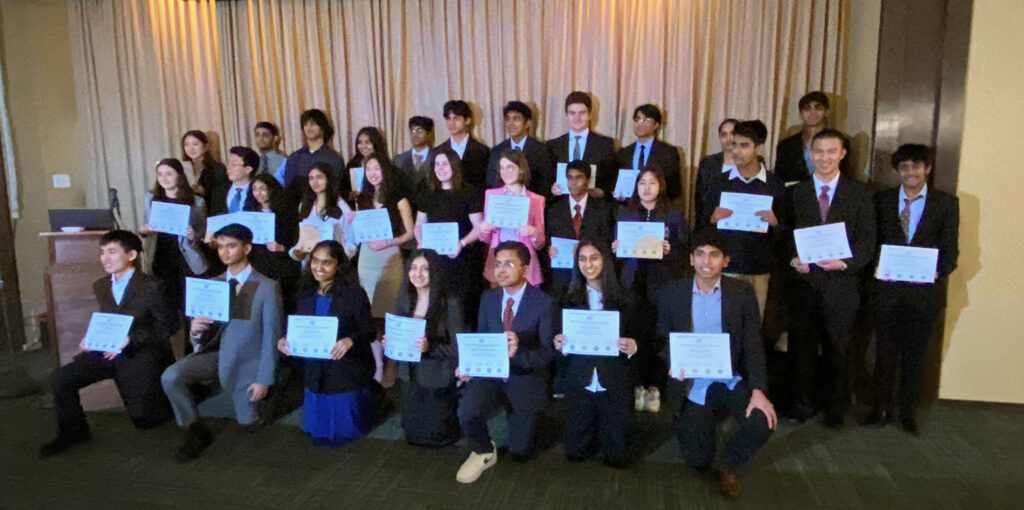 Washington JSHS welcomed and fostered Oregon JSHS students for 2023. Each state retained their separate awards and opportunity to represent their state by presenting their project at the upcoming National JSHS. National JSHS is April 12 – 15, 2023 in Virginia Beach, Virginia.
Congratulations! To the following JSHS award recipients ….
Washington
U.S. Presidential Scholar Nominees Selected for National JSHS Consideration
Dhruv
Kosha
Darbha
Upadhyay
First Place, $2,000 Scholarship Oral Presentation, National JSHS
Harish
Krishnakumar
Second Place, $1,500 Scholarship Oral Presentation, National JSHS
Vedant
Srinivas
Third Place, $1,000 Scholarship Poster Presentation, National JSHS
Ourania-Maria
Glezakou-Elbert
Poster Presentations, National JSHS
Alessandra
Nishka
Azure
Kacheria
Oregon
U.S. Presidential Scholar Nominees Selected for National JSHS Consideration
Carissa
Ekansh
Gerung
Mittal
First Place, $2,000 Scholarship Oral Presentation, National JSHS
Rishab
Jain
Second Place, $1,500 Scholarship Oral Presentation, National JSHS
Vladimir
Mamchik
Third Place, $1,000 Scholarship Poster Presentation, National JSHS
Nesara
Shree
Poster Presentations, National JSHS
Darsh
Kavish
Mandera
Patel