The Washington State Science & Engineering Fair (WSSEF) joins with the five Regional Fairs to comprise the Washington International Science & Engineering  "WISE Team" at the ISEF.  The Regional Science & Engineering Fairs are Eastern Washington (EWRSEF) , Central Sound (CSRSEF), Mid-Columbia (MCSF), Discovery (DRSEF) and Southwest Washington (SWWSEF) .
CONGRATULATIONS!!   Click on the year for the full details and photos!
* Hint:  Scroll down following the award lists for the previous year results.
WISE Team 2023 Results!  Check it out for all the scoop and photos!
8 ISEF 2023 Grand Champion Awards
Grand Champion Second Place ~ $2,000
   Kevin Shen
Grand Champion Third Place ~ $1,000
   Annie Adhikary
   Yue Ding
   Vedant Srinivas
Grand Champion Fourth Place ~ $500
   Rohak Jain
   Saachi Sharma
   Kosha Upadhyay
   Andy Ye
8 ISEF 2023 Special Awards
Air Force Research Laboratory // First Place // $750
   Vedant Srinivas
Association for Computing Machinery // First Place // $4,000
   Kosha Upadhyay
CIA // First Place // $1,000
   Kosha Upadhyay
Long Island University // Presidential Scholarship
   Vedant Srinivas
National Security Agency Research Directorate // First Place
   Nikki Taleghani
Serving Society Through Science // Second Place // $500
   Vedant Srinivas
University of Texas ~ Arlington // $10,000 Scholarship
   Saachi Sharma
University of Texas ~ Dallas // $5,000 Renewable Scholarship
   Annie Adhikary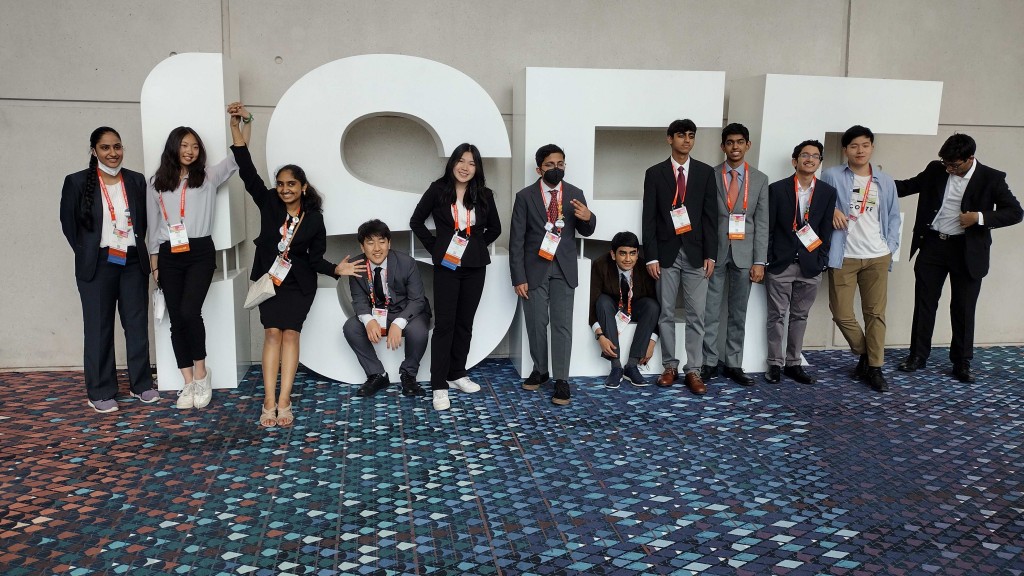 Special Highlight from the 2018 ISEF:   Dhruvik Parikh, 18, of Bothell, Washington, received the Intel Foundation Young Scientist Award of $50,000 for his development of less expensive yet more robust ion exchange membranes for use in large industrial-scale batteries for storing solar or wind-generated electricity for later distribution. His composite membrane has 10 times the proton conductivity of the industry's standard membrane, while reducing production costs by about 30 percent.  Dhruvik on the right: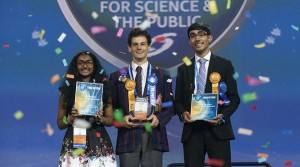 More about the ISEF ~ Each year, more than 7 million high school students around the globe develop original research projects and present their work at local science competitions with the hope of making it to the International Science and Engineering Fair, the world's largest pre-college science competition, a program of the Society for Science & the Public.
Approximately 1,800 winners of local, regional, state, and national competitions are invited to participate in this week-long celebration of science, technology, engineering, and math.  At the event, these young innovators share ideas, showcase cutting-edge research, and compete for more than $5 million dollars in awards and scholarships.