Project Display Requirements at WSSEF:
Project display – either a board or other display media
Lab Notebook / Journal for judges to review during your judging session.
Other items subject to the rules that will help explain your project to judges … photos, model, testing samples … be creative!
A copy of your forms in case they are needed.
Project Example … See the example below, but implement your own creativity to make your display area reflect you and your project.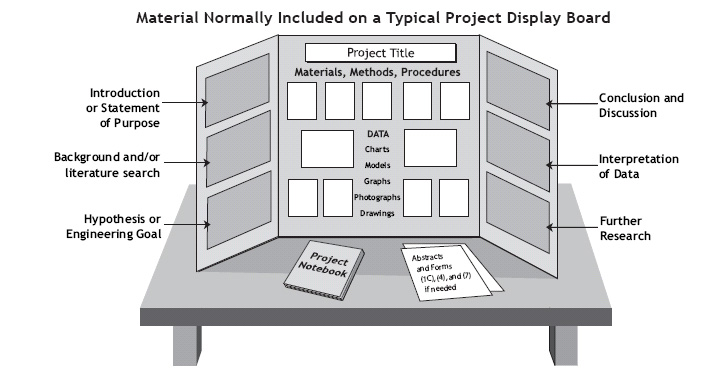 Display and Safety Rules:
Click Here for a full list of ISEF Display and Safety Rules.   For Spanish

Click Here

.  WSSEF follows all ISEF Display and Safety Rules.
The entrant is required to furnish all materials needed to setup and show his or her exhibit (e.g., 9 foot long UL approved extension cord, tape, markers).
WSSEF will furnish electricity for all.  Any surge protection is the responsibility of the student. (See "Electrical Regulations at ISEF" for complete rules. Note: Electrical Regulations is near bottom of ISEF Safety and Display section.)
The Display and Safety Committee reserves the right to remove any project for safety reasons or to protect the integrity of WSSEF and its rules and regulations.
Display of photographs other than that of the finalist must have a photo release signed by the subject, and if under 18 years of age, also by the guardian of the subject.  Sample consent text: "I consent to the use of visual images (photos, videos, etc.) involving my participation/my child's participation in this research."
Ensure that photo and web credits are on the display.
Allowable Exhibit Dimension
Exhibits exceeding the following will be disqualified at the WSSEF and ISEF.  Tables are furnished (76 cm. high), but tall exhibits may be placed on the floor as desired.
The maximum allowable exhibit dimensions are:
Depth (front to back)
–        76 cm. (30 in)
Width (side to side)
–        122 cm. (48 in)
Height (top to bottom)
–        274 cm. (108 in)
Note: Height includes the table
Not Allowed at Project or Booth
If a student feels it is important to show judges any of the not allowed items below, then students can take pictures, use laptop or devise other ways and display that portion of their project in their area.
Living organisms, including plants
Soil, sand, rock, cement and/or waste samples, even if permanently encased in a slab of acrylic
Taxidermy specimens or parts
Preserved vertebrate or invertebrate animals
Human or animal food as part of the exhibitor demonstration of the project.
Human/animal parts or body fluids (for example, blood, urine)
Plant materials (living, dead, or preserved) that are in their raw, unprocessed, or non-manufactured state (Exception: manufactured construction materials used in building the project or display)
All chemicals including water (Projects may not use water in any form in a demonstration)
All hazardous substances or devices (Example: poisons, drugs, firearms, weapons, ammunition and reloading devices)
Items that may have contained or been in contact with hazardous chemicals (Exception: Item may be permitted if professionally cleaned and document for such cleaning is available)
3-D Printers are allowed, but cannot be connected to a power supply
Dry ice or other sublimating solids
Sharp items (for example, syringes, needles, pipettes, knives)
Flames or highly flammable materials
Batteries with open-top cells or wet cells
Glass or glass objects unless deemed by the Display and Safety Committee to be an integral and necessary part of the project (for example, glass that is an integral part of a commercial product such as a computer screen)
Any apparatus deemed unsafe by the Scientific Review Committee, the Display and Safety Committee, or Society for Science & the Public (Example: large vacuum tubes or dangerous ray-generating devices, empty tanks that previously contained combustible liquids or gases, pressurized tanks, etc.)
Any inadequately insulated apparatus producing extreme temperatures that may cause physical burns is not all
Any apparatus with unshielded belts, pulleys, chains, or moving parts with tension or pinch points must be for display only
Project sounds, lights, odors, or any other display items must not be distracting. Exceptions to this rule may be permitted for judging demonstrations. Approval must be given prior to judging.
Laser /  Laser Pointer Regulations:
Any Class 1, Class 2, Class 3A, or Class 3R lasers are allowed to be used responsibly. No other lasers may be used or displayed.
Laser beams may not pass through magnifying optics such as microscopes and telescopes.  Lasers must be labeled by the manufacture so that power output can be inspected.  lasers without labels will NOT permitted.
 Lasers must be labeled by the manufacturer so that power output can be inspected. Lasers without labels will NOT be permitted.
Handheld lasers are NOT permitted.
A  Lasers will be confiscated with no warning if not used in a safe manner.
Removal of Exhibits:
All Grades 1 – 6 Exhibits must remain in place until 4:45 PM on Friday and be removed by 5:30 PM on Friday.
All Grades 7 – 12 Exhibits must remain in place until 5:00 PM on Saturday and be removed by 6:00 PM on Saturday.
Abandoned exhibits will be destroyed!