Welcome Back! The WSSEF is "in-person" for 2023 in Bremerton, Kitsap County.
March 31, 2023 ~ Grades 1 – 6
April 1, 2023 ~ Grades 7 – 12
Come to the WSSEF and meet the U.S. Patent and Trademark Office (USPTO) team. Learn more about protecting your inventions, concepts and devices directly from the experts. Also returning for fun and excitement are the Science Film Festival, hands-on STEM activities, college and university representatives and be sure to view the science projects. Projects are open for public viewing when students are not engaged with judging.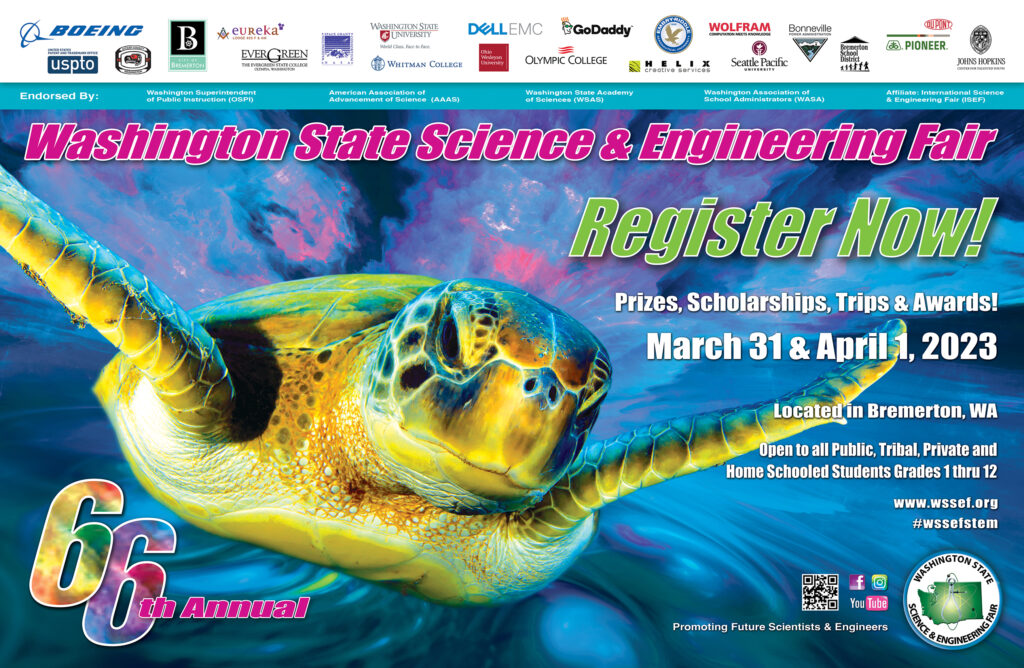 How did Washington science fair finalists do this year at the Regeneron International Science & Engineering Fair?

Find out here.
Six Regional Science & Engineering Fairs in Washington are also ISEF Affiliated.
Northwest Regional Science & Engineering Fair (affiliation pending)
More Information
Why get involved with WSSEF? (PDF)
Get the Judges-Brochure (PDF)
Download this year's WSSEF Poster here (PDF)
Of Interest
WSSEF is a non-profit organization under the jurisdiction of an elected board of directors and is funded solely by contributions and staffed by volunteers.
Neither the WSSEF board, its individual members, nor hosting entity, is responsible for any loss, damage or injury associated with the Fair.